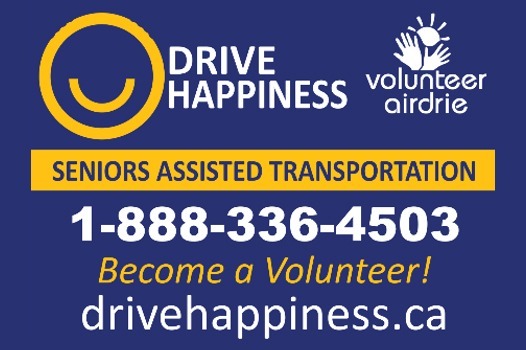 Drive Happiness Volunteer Seniors Assisted Transportation Program
Volunteer Airdrie has partnered with Drive Happiness Seniors Association to provide a low-cost, accessible volunteer driver transportation service for seniors and the disabled in the Airdrie area effective May 1, 2021.
Drive Happiness Seniors Association is a registered, non-profit society whose mission is to assist seniors in remaining independent in their own homes for as long as possible. By providing seniors with mobility, we can help them ensure an independent lifestyle.  Based in Edmonton, Drive Happiness has been providing its services in the Capital Region for over 20 years and has recently extended its reach to include Lethbridge, Lloydminster and Airdrie.
How It Works:
Volunteer drivers take riders to various appointments like medical appointments, shopping, banking, programming, and to visit friends or family.
The rider requiring the ride buys tickets for $10.00 each from the Drive Happiness office. Payments can be made by cheque to "Drive Happiness" and mailed, by credit card over the phone (with an additional $3 fee), or by sending an email money transfer to payments@drivehappiness.ca with the security answer to any question you choose as "happiness". Each ticket entitles the rider to ninety minutes of time and/or 40 km driving distance. Time and/or distance over this requires another ticket. Additional details are at https://drivehappiness.ca/ride-program.
Eligibility:
A big part of the Drive Happiness core operations are providing transportation services to seniors (65+); residing in the Airdrie and surrounding areas, in need of transportation services due to limited income, mobility and other health related issues.
Specifically, according to the Drive Happiness Standard Operating Terms and the Drive Happiness Association Bylaws, applicants are assessed on the basis of the following criteria:
Applicants need to be 65+, however exceptions will be considered and evaluated on a case-by-case basis;
Applicants need to be sufficiently mobile such that they can enter and exit vehicles on their own cognizant; however need to have personal challenges that restrict them from utilizing other forms of transportation such as Airdrie Transit, Access Airdrie, etc.
To access the Drive Happiness Airdrie services, Airdrie and area residents can call 1 (888) 336-4503, or complete and send an application form accessible HERE.
To volunteer as a driver, please contact Volunteer Airdrie at (403) 993-5034, or complete and email an application form to info@volunteerairdrie.ca.  The application form can be accessed HERE.