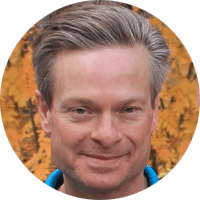 Chair – Dave Maffitt
Dave Maffitt is the current Chair of the Volunteer Airdrie Society.  Born in Calgary and raised on a small farm near Carstairs, he is an avid and lifelong volunteer.  He joined Volunteer Airdrie in mid-2013, just as he was wrapping up a 6-year involvement with Airdrie Minor Basketball, including 5 years as its President.  Dave was the Chairperson for the Basketball Sport at the Airdrie 2014 Alberta Summer Games, where he organized and supervised 75 volunteers at 4 venues over 3 days.  When Dave is not volunteering, he finds time to work in the Calgary oil patch as an oil & gas marketing consultant for junior and intermediate exploration companies.  In his "spare time", Dave also sits on the Boards of Volunteer Alberta, Airdrie Sports Council, Karate Alberta Association and Alberta JKA Karate Association.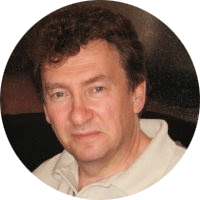 Vice Chair & Director, Events – Leon Cygman
Leon moved to Calgary in 1979 and worked as a project coordinator in the construction industry. He turned his profession to teaching in 1983 and has taught courses in computer programming, systems design and security, and technical mathematics. In 2008, he joined Mount Royal University where he is teaching for the business school in the areas of management, e-business, management information systems and statistics. He has chaired the departments of Aviation, General Management, Human Resources, International Business and Supply Chain Management. Leon is the author of a textbook on database design and use, has written several papers and book chapters in the area of distance education and will be publishing a Business Statistics – Level One book in the fall of 2019, with Level Two expected the following year. Calling Airdrie home since 2014, Leon is married with one daughter and one beautiful granddaughter. Besides his work on the Volunteer Airdrie board, he is also a member of the Airdrie Public Library and the Marigold Library Systems boards. Leon is an avid traveler having visited over 20 countries on 4 continents. He is currently writing a book on independent traveling. Leon has a Masters degree in information systems and a PhD in business administration with a major in e-business.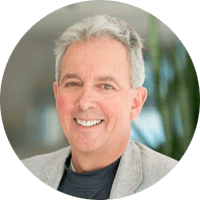 Treasurer & Director, Governance – Phillip Hoffmann
An Airdrie resident since 2018, Phil Hoffmann is an active volunteer in the community. He is on the Board of Directors for the Airdrie Food Bank and is President of the Advocates for Airdrie Public Library Society. Before moving to Airdrie, he volunteered for arts and other organizations in Calgary, including the National Music Centre and the Calgary Folk Club. His former professional roles include Executive Director of Literacy Alberta. Phil holds a PhD. in philosophy from the University of Calgary. He enjoys tutoring philosophy online and composing original acoustic guitar music. His favourite quote is: "Remember your humanity and forget the rest" – Albert Einstein.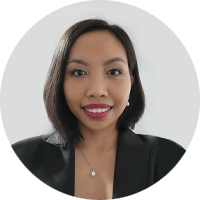 Secretary – Charmagne Sumaoang
Charmagne – Born in Isabela, Philippines, and moved to Calgary at 11 years old. She recently completed her undergraduate at the University of Calgary with a combined degree in Political Science and International Relations minor in East Asian Language. Charmagne joined the Volunteer Airdrie Society through Volunteer Alberta's Youth @ The Table program. In addition to this she is also a crisis line volunteer at the Distress Centre Calgary. On her free time, she loves baking and cooking.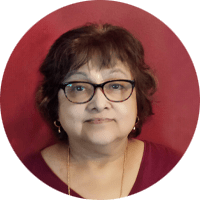 Director, Seniors Programs – Nina Nath
Volunteerism is very much part of my upbringing from an early age, as I started volunteering at a young age from my school days. My grandfather inspired me. He was a Doctor and would provide medical assistance in any form free to people who were unable to provide medical needs for themselves. For his humanities he received the President of India's Humanitarian Award. Mother Teresa would come to our school, once a month, and involve the students in volunteerism. I have volunteered as a co-coordinator representing the Corporation I was working for, got involved with United Way, convincing as many staff as possible to contribute through monthly payroll deductions any amount, to United Way. I was in the banking and investment business for over 18 years. I was a Director for North Rocky View Community Links for 8 years. When the Youth Program started by the City, I was also involved and tried to rid our society about Gay individuals perception, and promoted their rights as individuals with different bodies and feelings not to discriminate. I have advocated for accessibility for People with Disabilities and Seniors, as well as promote awareness of People with Disabilities and their needs and promote them as individuals with different abilities and different needs, especially with policy makers and politicians as an individual and did not take advantage of my position with Community Links. As well it is important to change the perception of our society that every Disability is different and unique and it does not necessarily mean that all Disabled People are mentally disabled as well and useless. I have been a Director of Volunteer Airdrie since its inception, and left for a few years, and am very happy to be back being a part of Volunteer Airdrie again. Personally, I am a Person with Physical Disabilities and understand them, and I encourage them to be part of some organization either as a worker or as a volunteer.  I am a member of the Welcoming Airdrie Committee, as well as the Indians in Airdrie nonprofit organization.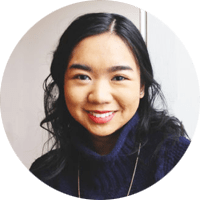 Director, Program Evaluations – Monique Sereneo
Monique is relatively new to Alberta, having moved to Calgary in May 2019. She was raised in Winnipeg, MB and lived in Kingston, ON while attending Queen's University for Applied Economics with a minor in Global Development Studies, and a Certificate in Law. Monique joined Volunteer Airdrie through Volunteer Alberta's Youth @ the Table program, and currently works at CCVO (Calgary Chamber of Voluntary Organizations). She enjoys learning about Alberta's vibrant nonprofit community and also volunteers for YYC Growers + Distributors and the Calgary Migratory Species Response Team.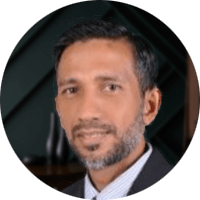 Director, Fund Development – Nuhad Hussain
Nuhad moved to Airdrie in 2007 with his family. Nuhad started his new career with the City of Airdrie in 2022 as a Senior Project Manager, in the Emerging Solutions department. Before that, he has been working in the telecommunication and government sectors in various roles in Information Technology (IT). He received his MBA from Athabasca University in 2018. Nuhad has been volunteering with many charities since 2002 and is excited to be part of the Volunteer Airdrie as a board member.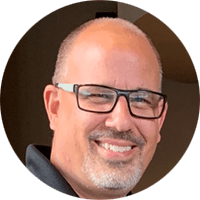 Jason Heer – Director, Youth Advisory Board, Community Engagement, & Fund Development
Jason has a degree in Education, and a Master of Leadership. He has been in the non profit sector for the past 15 years and worked for agencies such as Boys and Girls Clubs of Calgary and Edmonton, as well, Big Brothers Big Sisters of Calgary and Area. His focus has been working with vulnerable and high risk youth, by providing programs that will engage them with particular life skills, healthy mentors and safe space. Additionally, he has a passion assisting young people achieve their goals, reach their milestones and discover their own potential.
Jason has lived in Airdrie over 10 years, currently raising 5 children, all which participate and volunteer through Airdrie Minor Hockey. Jason also has enjoys participating in most events in Airdrie such as Airdrie Fest and Linking the Community in the Park.
Jason believes that children and youth are the future of our society and the importance of the commitment of the adults to create an impact in them for a better society.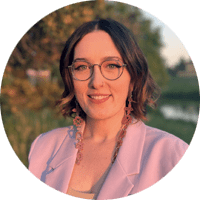 Meghan McCracken – Director, Program Administration
Meghan McCracken is a person who wears many hats; she has worked for many years as a construction worker in the oil and gas industry, she has a Bachelor of Science Degree in psychology from the University of Lethbridge and she has taught as an English language teacher's assistant in a francophone middle school in New Brunswick. Her teaching philosophy is rooted in respect, empathy and amplifying cultural brilliance for all youth. She is also a proud Red-River Métis person and loves to engage meaningfully with her cultural identity. Meghan is an active listener who develops relationships and connections with people by accepting them for who they are. She understands the importance of reciprocity and giving back to her community and is honored to share this passion with the youth volunteers in Airdrie. Her dream in life is to become a psychologist who builds her own home and adopts many pets.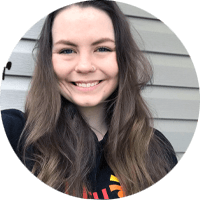 Madelaine Coupland – YVC Team Leader
Madelaine moved to Airdrie from Kelowna, BC in 2018 and has since proudly graduated from St. Martin de Porres. She is currently enrolled in the Child and Youth Care Diploma at Bow Valley College and plans on working with at risk youth in her community. She joined Youth Volunteer Corps as a Team Lead because she is passionate about working with youth and showing them that volunteerism is fulfilling, full of valuable life experiences, and is the core of a community.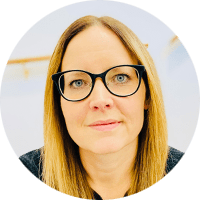 Trish Boyer – YVC Team Leader
Trish has lived in Airdrie for the past 14 years with her husband, two daughters and two dogs. She grew up volunteering with her family and is so happy to help instill the importance of volunteering into the youth of Airdrie. Trish has been lucky to volunteer with organizations like Inn from the Cold, The Mustard Seed, AARCS, The Boys and Girls Club Calgary, Ronald McDonald House and Airdrie Girls Fastpitch. She has worked in the airline industry for 20 years and in her downtime she enjoys using her travel benefits to see the world, hiking, kayaking, camping and watching both her girls play softball.